Information
Over the years Stirling Lodge has been a fishing destination for countless groups and we offer many services and facilities that cater to group needs. Many of our policies have been developed to make a group trip as easy and as convenient as possible. The lodge will send you advance registration and fishing license forms so your check-in is quick and easy. All members of the group receive individual bills for both their lodging and marina services. All dining room and bar charges are kept so you only pay for what you have had. Deposits are handled as a group so if a member fails to show up you may either return the deposit to him or add it to the rest of the groups deposits. The Lodge charges in US dollars and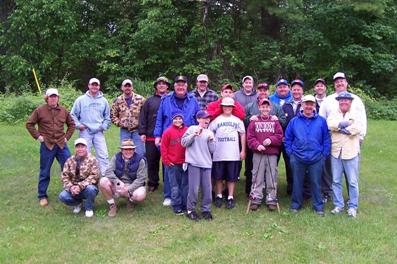 sets the rates in January so you know exactly what your trip will cost and you can budget accordingly. All our rooms, in addition to a double bed, have single beds so you never have to double up. Many of the rooms have a large sitting area so you can get together for cards etc. Our bar and pool room is perfect for groups to entertain themselves at the end of the day and dart and pool tournaments are organized for your group if desired. Our lake, with it's fish sanctuaries provides extremely consistent and plentiful fishing. All fish are cleaned and frozen in your name and a weigh scale is down at the docks for those friendly competitions.
Post & Beam Dining Room
Our fully licensed Post and Beam Restaurant serves 3 meals a day to our American Plan Guests. Our flexible meal hours make it easy to arrange your fishing schedules. If you want to spend the day on the lake or sight seeing in the area and not return for lunch, picnic lunches are done up on request. Our guests enjoy the comfortable atmosphere of century old timbers and a friendly efficient serving staff.
English Pub
Our English style Pub is a great place to relax in the evenings and swap tales of the day with fellow fishermen, catch the latest game on our cable television, play a game of pool or Canadian Air Hockey in our games room.
Pool
Had a long day fishing? Cool off and our heated outdoor pool. Open approximately June 24th-September 4th
Even if you don't fish, there's lots to do at Stirling Lodge...
Swimming in our pool
shopping at Kilborn's on the Rideau
Golf at several nearby courses
Nature trails on Foley Mountain
Canoeing on our lakes
Picnic on our island picnic area
Boat cruises at the Thousand Islands
Hiking on the Rideau Trail
Horseback riding nearby
1 1/2 hours to Ottawa, our nations capitol
1 hour to historic Fort Henry in Kingston
Sightseeing and shopping in historic Perth, Smiths Falls, and Kingston
Stirling Lodge Inc.'s customer service accessibility plan is available
over the phone at 613-272-2435 or by email at stirling@stirlinglodge.com